When it comes to coaching, you can pretty sum up this whole post in one word – Fun!
Still, fun is easier said than done, so here's a few key pointers I use to create an engaging session.
1. Is this enjoyable?
Whenever I am planning my sessions I have two questions that I ask myself:
"Do I think the players I am coaching will enjoy this?"

"If I was a participant in this session would I enjoy this?"
If either of these are a 'no', then I seriously consider whether the session is right to run.
Of course, there are times when you will need to cover a particular topic, especially with older children and adults, that may be difficult to add a fun element to. But they should have the understanding to see the bigger picture about why you might be running a session, for example, that it is appropriate for the team to prepare for a game at the weekend.
2. Is it using their brain?
When coaching primary school aged children, I will always add an element of fun and challenge into every session. They not only enjoy it, but they also have to use their own initiative within the session to succeed; thus developing not only their physical skills, but also their decision making and psychological aspects for the chosen sport.
For all of my sessions, I'm asking myself one question "what type of player am I looking for?" The answer always being a 'clever' player. This might seem a little vague, but I know children understand what I mean when given with examples: outwitting an opponent, creating time for yourself or team etc.
3. Let it flow
Try not to be too structured. I tend to stay away from drills, implementing a free-flow aspect wherever possible.
Before any of my football sessions for example, players have some free time with a ball, and within this I'll interact with each one e.g. I often steal their footballs and try and nutmeg them, in turn they try and nutmeg me when I am trying to take a ball.
This sets the tone for the session. Once you're ready to start, move into what we are covering that session, but again not in a dictated way. Try avioding telling players the focus of the session; you want them to be thinking about what we are doing. At the end, ask them what they think the focus was.
4. Interactions are important
What's more vital than any planning when creating an engaging session is the interactions between you and your players. Getting to know each individual is vital for being able to create the environment you want in each session.
Not only do you want to pitch the level of the session correctly, but you want to make sure the humour and language used is appropriate too.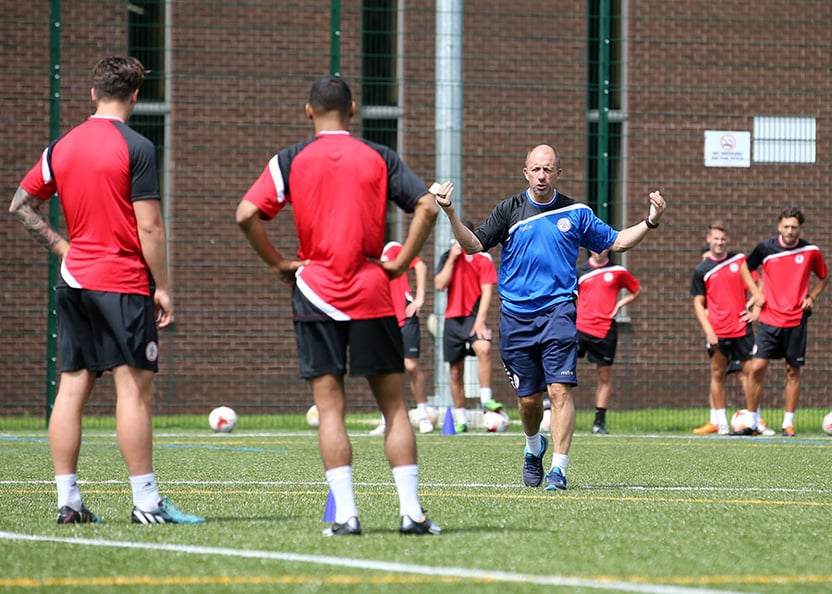 5. Mistakes are ok, in fact they're good
There will be mistakes, collisions and people getting it wrong, but that's ok. A quick chat as to what went well, what was hard, what we need to be looking at to be 'clever'… you get the usual answers in football, 'get into space', 'keep your head up', 'look after the ball', but you will get similar, or sport specific ones whatever sport you are coaching.
I then set them off again with those focusses that they've come up with, progressing it into trickier skills or more advanced play. It's important to help those that are struggling with any aspect on a one to one basis as others keep practising, while setting appropriate challenges, both group and individual.
How do you make your sessions engaging?
What strategies do you adopt to create engaging sessions? How does it work for your sport? What different tactics do you use for different abilites and ages?
Let us know in the comments below.