Revenue is vital to the ongoing success of your club, but it can prove to be challenging when you're tasked with increasing it.
We surveyed our clubs to find out how much more they are earning after adopting Pitchero features. We found that some were boosting their finances by up to 80%!
Get started with Pitchero's unbeatable finance-boosting tools today.
Central to how clubs raise their revenue with Pitchero is the Shop and Payments feature; allowing you to maximise revenue through selling various club products.
Here's a starter list of eight that we commonly see clubs, just like yours, collecting via Shop and Payments.
1. Membership
Membership fees make up a significant chunk of your club's revenue and thanks to Pitchero Shop and Payments, gone are the days of manually chasing people up who haven't yet paid their fees.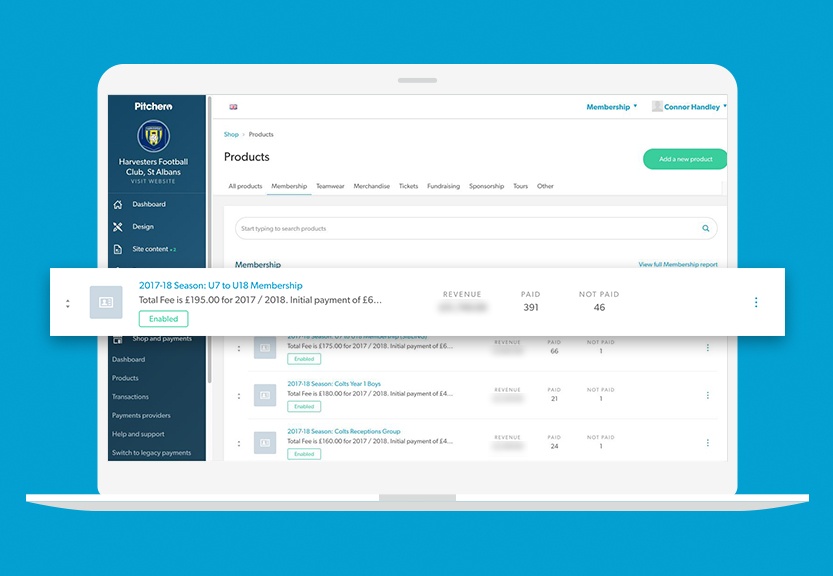 Pitchero's Shop and Payments is one centralised system that makes it so much easier to submit, track and ultimately collect membership payments from club members.


Case Study: Harvesters Football Club, St Albans, have set up several membership options for their members to go and pay where relevant, making it really simple for both parties to see where and what they're paying for.
2. Fundraising

Fundraising is one of the best ways to bring more revenue to your club. Organise a club fundraiser and set up the collection online.
A popular fundraiser is the 'Buy a brick' scheme. This is where supporters or people alike are asked to buy or sponsor a brick to be put towards a particular project a club may have, something like a new clubhouse or set of changing rooms.
Why not give our 'Essential Guide to Sports Club Fundraising' Ebook a read for an in-depth look at how you can fundraise at your club.
3. Sponsorship
Gaining sponsorship is important for your club if it's going to survive and thrive. There are so many ways your club can attract sponsors and increase the money you're taking in - and Pitchero's Shop and Payments is the perfect platform to do it on.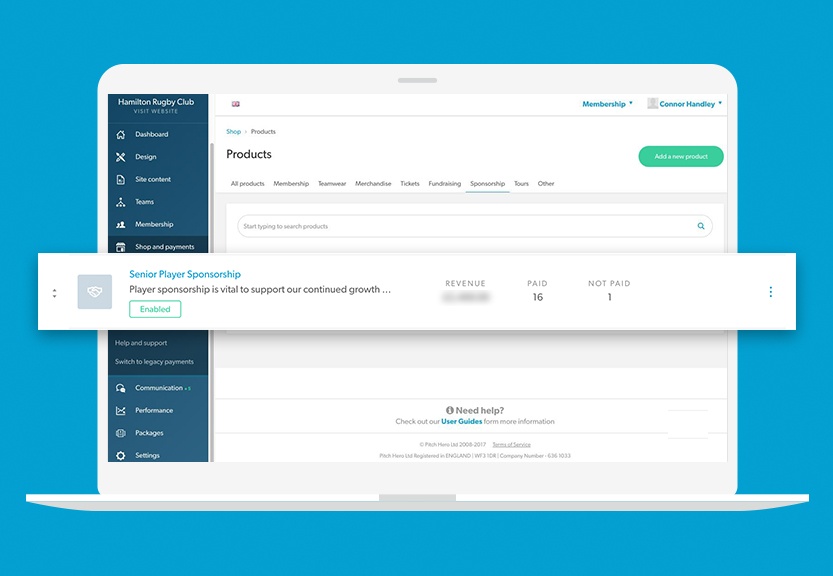 Case Study: Hamilton Rugby Club have set up their 'Senior Player Sponsorship' within the Shop and Payments section of their website, allowing them to see exactly how much revenue they have received and how many people have payed.
Clubs sometimes may not realise how sponsorship opportunities they have to offer. Be proactive in your approach and think outside the box. Sponsoring club events, kit and equipment is just the start.
Learn more about how to get sponsors at your club with our 'Complete Guide to Sponsorship' Ebook.


4. Teamwear
Selling your club's team kits can be a useful way to get some added revenue at the club. Not only can you sell kit to your team's players, but you can also set up a separate product to sell replica kit to fans and members.
5. Merchandise
People love to support their club and spending a few pennies here and there on club merchandise is something most fans are more than willing to do.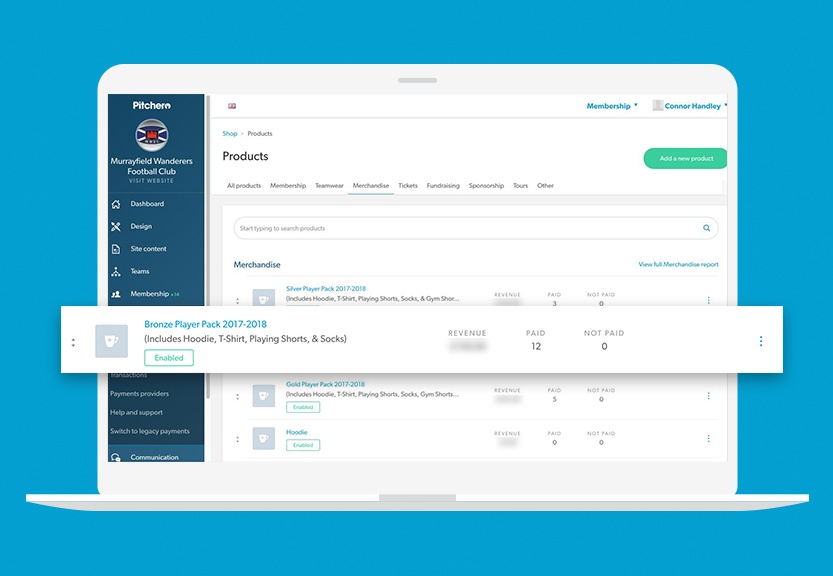 Case Study: Murrayfield Wanderers FC are one club who sell a variety of their club's favourite merchandise through Shop and Payments, this helps them see which products are selling and what might not be at the click of a button.
This is great for your club, so instead of standing pitchside freezing during the winter months selling scarves and hats, why not sell all of these online within the merchandise section of your online shop?


6. Tours
Getting away on an end-of-season tour is a popular venture for many clubs, so if this is something your club is looking to do then start collecting payments using Shop and Payments sooner rather than later.
All this can be done and monitored within the reporting section of Shop and Payments, tracking who has and hasn't sent their money is straightforward. All this allows you to be on top of things such as accommodation and travel, a job we'll help you out with.
7. Tickets
From matchday tickets to Christmas parties, setting up tickets for anything your club has planned has never been so easy within your club shop.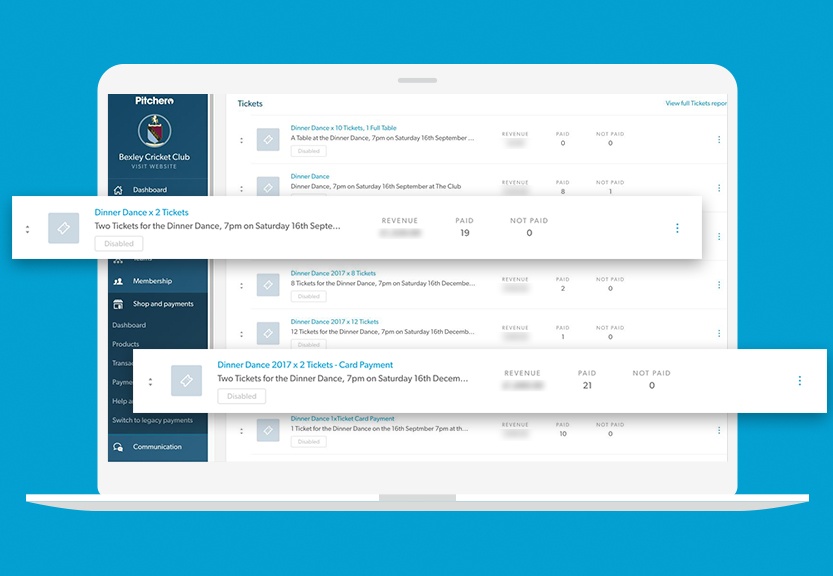 Case Study: Bexley Cricket Club are selling tickets for their 'Dinner Dance', allowing their members to buy a range of tickets that suit their needs. This allows them to keep a close eye on what tickets are selling, how much revenue they're making from each sale and if how many people have purchased tickets.


8. Don't limit yourselves
Don't worry, if there is anything else your club want to sell, Pitchero's Shop and Payments is on hand to help grow your club's revenue.
For example, you could use this tool to collect Fantasy Football fees if this is something your club does or want to do in the future.
Start raising club revenue today with Pitchero
Now you've got the ideas, what else are you waiting for? Getting started with Pitchero's Shop and Payments is simple. Get started with Pitchero and you could raise your revenue by up to 80%.