Team struggling to hit top form? Thinking of going into coaching in soccer? First, you need an education in the basic tenants of the sport. Beginning with formations - as how your side lines-up will be imperative to how it performs.
Here, we've listed a number of the most popular soccer formations, alongside what they can bring to your team and any potential pitfalls.
The Classic: 4-4-2
There can be only place to start. Named the Classic by us after building a reputation over a number of decades as the go-to formation, 4-4-2 can supply your team with a true sense of balance, with players spread evenly across the pitch. Popular across amongst soccer teams at all levels, 4-4-2 has been phased out a little over recent history, for reasons mentioned in "potential weak spots".
What your team needs
To make a success of 4-4-2, the first area you should look at is down the wings. With two strikers constantly occupying the penalty area, supplying them with service is vital. The best way to do this is out wide, where you should have two wide midfielders dedicated to getting behind the opposition defence and hitting crosses into the box.
As for the two strikers, picking players with complimenting attributes is vital. For example, a number of great exponents of 4-4-2 have gone for a "little and large" pairing upfront. With one tall striker that's good in air and another smaller, more agile striker, you have the perfect pairing up top.
Ultimately, do pick two fast wingers who know how to beat a defender, and don't select two strikers that are similar in their playing style.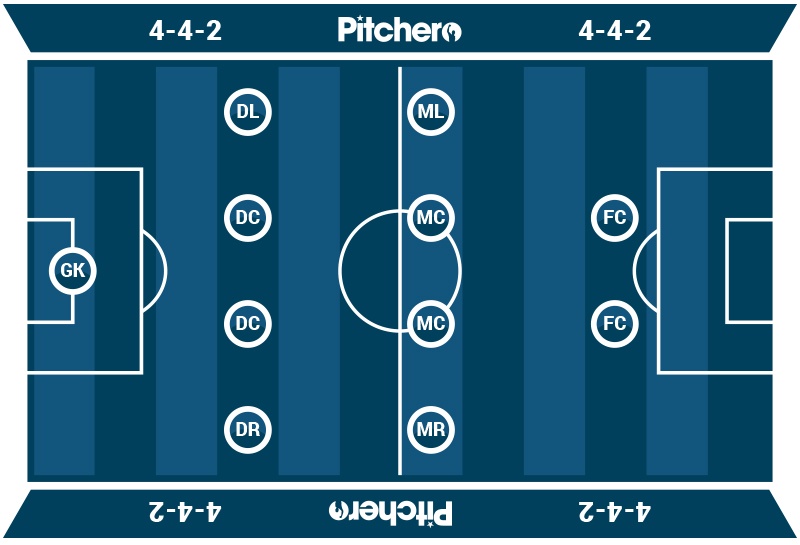 Potential weak spots
Given that 4-4-2 commits two players upfield throughout, the biggest weakness is being exposed in defence. With only two central midfield players who are required to both attack and defend, you risk leaving you team short of cover.
If you plan to go ahead with a 4-4-2 formation, select your two fittest and best tackling central midfielders to work hard in the middle of the pitch.
Park the Bus: 4-5-1
The battle for midfield superiority is one your soccer team will undergo during every match. The best way to ensure you win a battle that can go a long way to securing victory is by cramming it full of hard-working midfielders.
By using a 4-5-1 formation, the battle for midfield superiority is much easier to win.
What your team needs
Creating the perfect balance to that three-man central midfield area is the key to succeeding in 4-5-1 in both defense and attack. For that, you need a compliment of midfielders that can each bring something different to the table.
An anchoring midfielder can provide protection to the back four, ensuring you're not overrun when defending. At the other end, you'll need an offensive-minded player who's good on the ball and can score a few goals at the same time. To complete the set, select an all-rounder who'll work hard throughout the match, chasing up and down the field.
Elsewhere, you'll need defenders that fast on their feet. With the opposition unable to play through a crowded midfield, they'll need to go over the top of your backline. Select defenders that are fast on their feet, allowing them to chase down long balls over the top.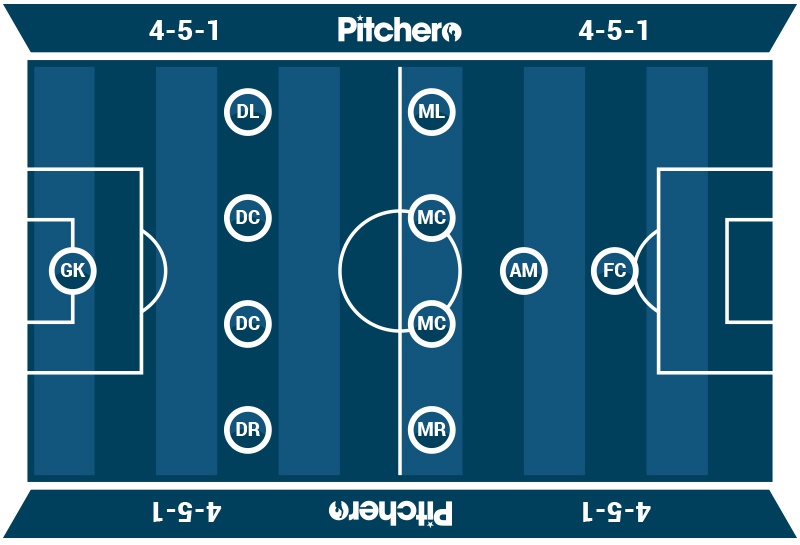 Potential weak spots
As you'll only be committing one player forward and cramming the midfield, creating chances in the final third could prove difficult, and your forward could strike a very lonely figure.
4-5-1 is great if you're not expecting much possession and want to keep things tight, but not ideal if you want to dominate the other team in their own half.
The Counter Attacker: 4-3-3
Some say that a 4-3-3 formation is similar to 4-5-1, but its use can actually lead to a much more attacking lineup. 4-3-3 has become popular amongst modern soccer coaches due to the balance it can bring in ensuring an organised defence that can spring into action in attack.
What your team needs
The wingers are a vital component to any successful 4-3-3 formation, as they are essentially performing two roles in the side.
Firstly, they need to be fast and creative. Acting as the main support for what will be a lone striker, their willingness to join the attack is vital to making 4-3-3 work. But in order to not leave your full-backs exposed in 1-on-1 situations, its also important that they are disciplined enough to track back and help out in defense.
One way in which 4-3-3 has been used successfully is as a counter-attacking formation. Tucking the wingers in and keeping it tight when your team doesn't have the ball, as soon as you win it back you're able to launch a breathtaking counter, with your pacey wingers charging upfield on the hunt of goals.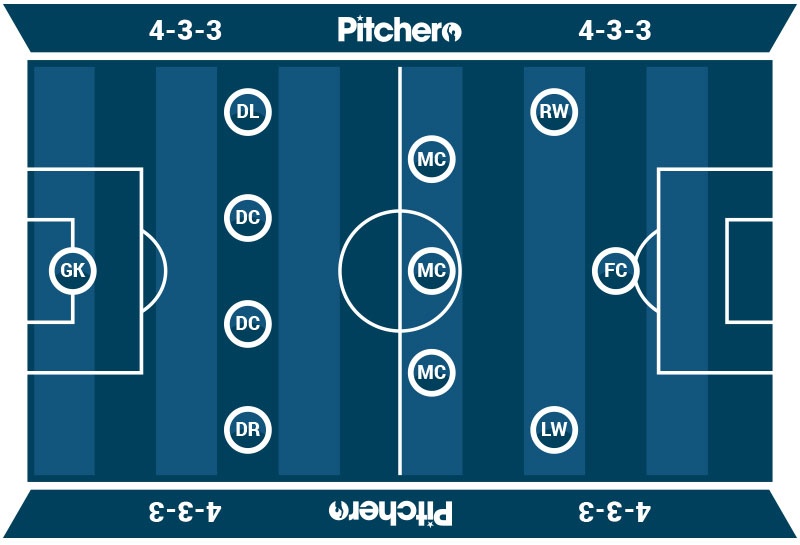 Potential weak spots
As is always the case with leaving one up top, strikers can become isolated. Selecting the right forward to fit in a 4-3-3 formation is key, as they're likely to have to do a lot of work on their own.
Pick a forward with good all-round attributes: pace, strength and ball control. These skills will be vital when holding the ball up and waiting for teammates to make themselves available for offensive duty.
Plus, when your team does approach the final third, you'll need one of your wingers or one of the central midfield trio to lend support to the central striker in the box.
Play it Narrow: 4-4-2 Diamond
As a nice alternative to a somewhat flat-footed 4-4-2, the diamond places greater emphasis on playing the ball through the middle of pitch. Allowing for a more substantial base to be developing in midfield, the diamond lessens any potential to get overrun as in a standard 4-4-2.
What your team needs
Creating that solidity in midfield is what the diamond is all about. Ensure you've got a workaholic anchor in midfield, whose sole purpose is to disrupt the opposition's attacks and protect the back four.

Ahead of them should be two more midfielders, who have the dual-role of both tucking into central area and acting as a wide-player for their respective sides of the pitch. Predominantly, these midfielders will occupy central ground, creating bodies in midfield and allowing for slight, intricate triangular passing which helps to maintain possession and wear the other team down.

They'll also need to lend support to attacks (and defense play) from out wide. Lead by full-backs that are as comfortable in attack as they are in defense, midfielders can pull out wide to double-up on opposition defenders on the wings.
Again, selecting strikers is key. With a narrow midfield, space can be a premium at the top-end of the field. Post two strikers with the ability to move intelligently in the opposition half. Stretching the other team's central defenders and moving them out of position, this allows your most advanced midfielder to expose any space created in the middle.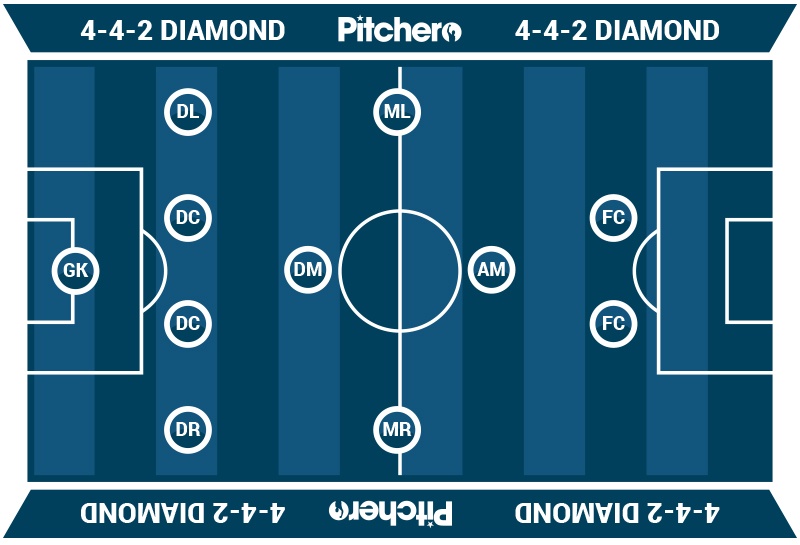 Potential weak spots
Struggle to create that space in the opposition half, and creating opportunities can be difficult. If the other team get wise and play as narrow as you, then playing through a mass of bodies requires the work of magicians.
With full-backs often left as the sole option down the wing in both attack and defense, there is always a danger that they could be exposed by a pacey, inventive opposing winger. Ensuring midfielders are on hand to lend defensive support out wide is key to a solid defensive diamond.
The Contemporary: 4-2-3-1
Taking the crown from 4-4-2 only a few seasons ago, 4-2-3-1 can now lay claim to being soccer's most popular formation. The reason for its popularity is overall balance. Whereas 4-4-2 is seen as too flimsy and easy to breakthrough and 4-3-3 leaves attacking players too isolated, 4-2-3-1 can provide stability and control in defence, and numbers in offense.
What your team needs
Teams who favour 4-2-3-1 tend to start with two holding midfielders. Mainly concerned with sitting in midfield and ensuring opposing attacks are broken-up, this duo allow the four attacking players ahead of them to flourish.
As these four are likely to create and score the vast majority of your goals, they all need to excel in advanced positions. Ensure you've got a playmaker, playing in the number 10 role, of the highest quality who can knit all your attacking play together. Alongside them should be agile attacking players who can pass and move, creating space in order to unlock the opposition defense.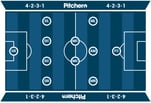 Potential weak spots
Despite its popularity amongst elite soccer teams, 4-2-3-1 is not without its flaws. Most central to that is complaints the system creates a divide between the defensive and offensive units.
With two holding midfielders who are aren't traditionally good with the ball at their feet, attacking play can be stifled and slow – particularly if the opposing team are willing to sit back and soak up pressure.
Elsewhere, full-backs are again at risk. Wide attacking players are part of that four-strong unit up the field, and their readiness to help out at the back is sometimes limited.
From Left-Field: 3-5-2
Instinctively, you may think 3-5-2 is one of the more defensively minded formations your soccer team could play, with essentially 5 defenders on the pitch. On the contrary, its one of the most offensively geared setups for any soccer team, but one that's also fraught with danger.
If you decide that 3-5-2 is the formation for you, it'll take a significant amount of work on the training ground before your team are able to master the intricate roles involved.
What your team needs
Just as any successful exponent of 3-5-2 will tell you, the shape and organisation of that defense is key to making an intrinsically difficult formation work.
To start with, you'll need two amazing wing-backs. Acting as part of the five-man defense but offering width in attack at every opportunity, the wing backs are essentially their to occupy two roles in the team.
Given that they may often be left upfield after an attack breaks down, defensive cover in the central 3 is vital. Intelligent defenders that are quick to defuse danger are always nice, but especially so in a 3-5-2 formation.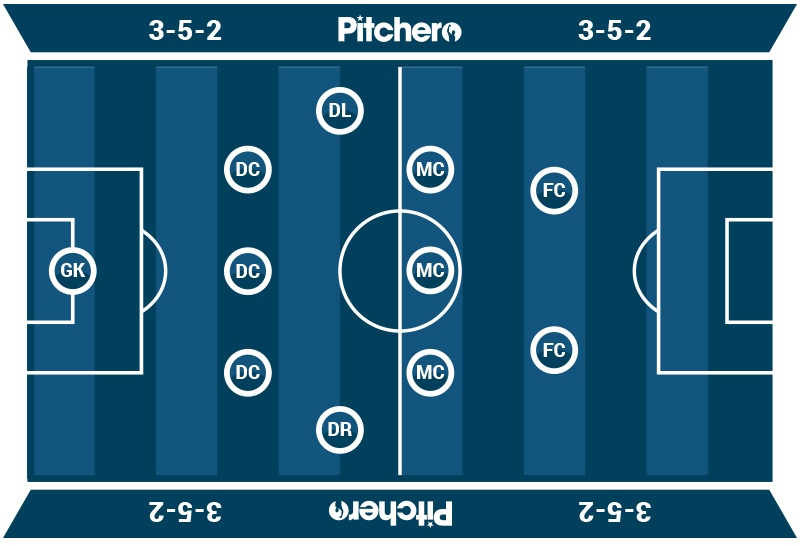 Potential weak spots
Essentially, they'll be 3 defenders where usually there was 4, so it may take a lot of work ensuring they maintain shape as they're stretched across the field.
More than any other formation, a good 3-5-2 works when the team plays as a unit. If the wing-backs are caught upfield, the midfield trio must work to provide cover. A lot of effort is required to ensure your team is well drilled and able to cope with the inevitability of players being caught out of position. But if you can pull it off, 3-5-2 can bring attacking potency, control in midfield and defensive stability – all in one formation.
More coaching advice
We've plenty more coaching advice for soccer coaches out there. Head to our collection of the best soccer content Youtube can offer, alongside 4 of the finest online resources you'll see for soccer coaching.
Be the best coach you can be in 2017 - Free Ebook
Crammed full of coaching advice on everything from motivating your team to preperation, Pitchero's Sports Coach Bible '17 Ebook can help you improve your coaching skills and own it out on the training pitch this weekend.