As you prepare to embark on a brand new season, do you harbour sporting dreams of lifting the league trophy come the season's end? Or are you more content with staving off relegation, maybe taking the prize scalp of your local rivals in the process?

Whatever your ambition for the new season, it's vital you incorporate goal setting as a means to boosting motivation and focusing your team's collective minds.
Such is the importance of setting goals in sport, the sports psychology industry has taken on the subject and outlined a basic structure for motivated sportspeople.
There are three recognised types of goals:


1. Process Goals
Each goal needs a clearly defined set of actions to be achieved, and that is where process goals come into play. The ultimate, top-of-the-tree, eat sleep and breathe to achieve goal (more on that in outcome goals) needs a pathway if you're ever going to get there.
In reality, that is a process you put in place to help you get to the final goal.


2. Performance Goals
A Performance Goal is like your school progress report, a miniature goal you set on the path to your ultimate goal that lets you know how you're getting along.
3. Outcome Goals

Finally, the desired end point on your goal setting journey. Every part of your goal setting process is geared towards the outcome goal.
It should be your main source of motivation and will only be achieved through the correct implementation of process and performance goals.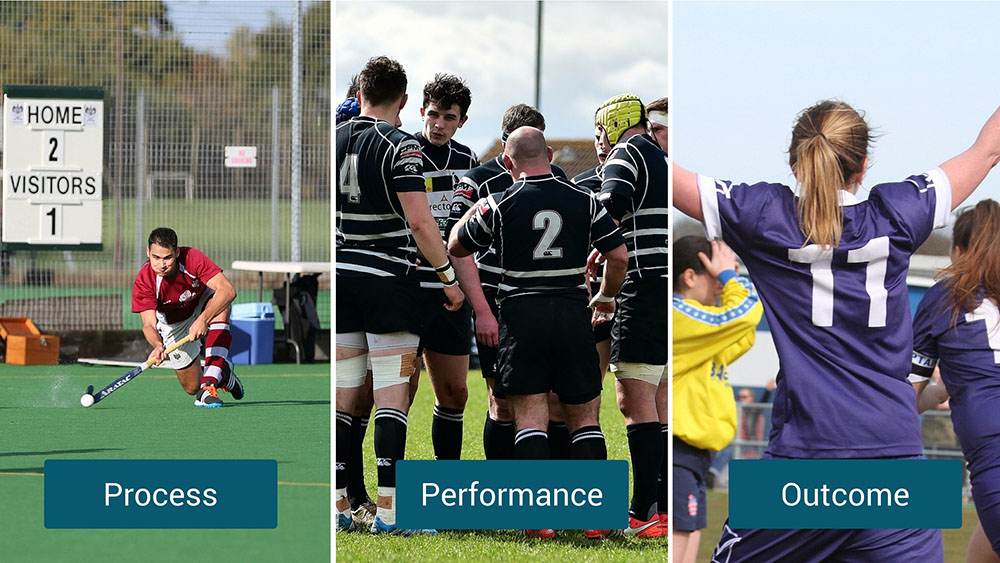 How to get to the top by setting goals
There is good reason for the level of detail that's gone into researching goal setting in sport; and its benefits have been proven by the sports psychology industry.


A 2013 study into American footballers showed athletes who set process goals (defined as effort goals in the study) before they head into training had a higher percentage of self-regulatory efficacy (basically a sports person's self-belief that they can pull off a task or goal under the pressures of a game situation) when compared to those who didn't set appropriate goals.


Instinctively, it might sound obvious that in order to achieve in sport you need to outline what exactly it is you want to achieve. But goal setting in sport is a much more valuable process than merely stating "I want to win the league," and here is how you can set your goals for the upcoming season.


Find an outcome goal
Before you even take a step on the pathway to success, you need to know where you're heading. The outcome goal is the fruits of your labour, the goal that picks you off the turf when times are down, and keeps your head in the game when your body would rather call it a day.
For different members of the sports club, your outcome goal may be very different – you may even play a significant role in more than one. As a coach, your primary outcome goal will no doubt revolve around the team whose performances you are responsible for.


Defining a solid outcome goal begins with assessing how a team has performed with regards to their previous goals. Have you recently been relegated or promoted? Did you consolidate in a mid-table position? Did you disappoint in the league but make it to the cup final? Have you just lost your best player so need to reconsider how the team might perform?



These are all questions you need to ask yourself before setting an outcome goal. Once you've found it, write it on a post-it note and slap it on your bedroom ceiling – this is the goal that will be consume your entire season.


As a coach, you need to let your players know the team's outcome goal so they can play their part in achieving it. For players, you might be outlining your own individual outcome goal, and aligning it with the team's goal can ensure a smooth overlap of progression towards obtaining both.


Perhaps you spent most the previous season warming the bench and want to become a first team regular; or you've got your eye on the top goal or try-scorer award at the end of the season dinner. These are all perfectly viable outcome goals – just ensure that they feed into the team's goals of improving and succeeding.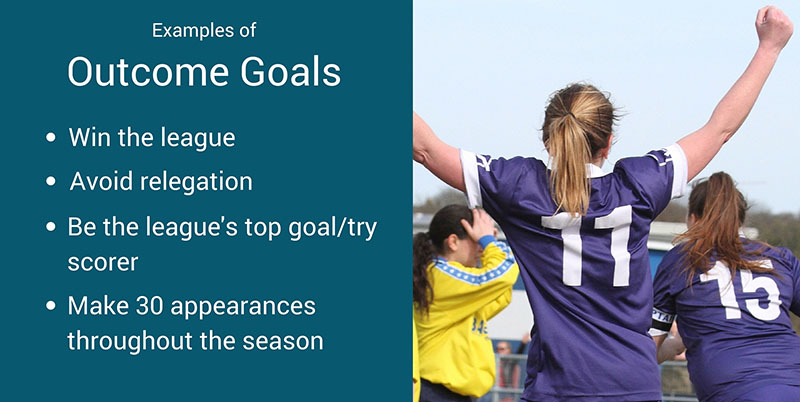 Define your process goals
In many ways, process goals are actually the most important part of any goal setting process. Without them, you'll never make it to your outcome goal, and you won't be improving along the way.


When you've decided on your outcome goal, you need to decide how you are going to get there. Process goals are all the little pieces of hard work that need to be put in place as you charge towards your ultimate goal.
Again, to successfully outline a set of process goals, you first need to establish where you can improve. As a coach, that could mean developing on an individual basis or improving certain aspects of your team.
Is there a gap in your skills-base as a coach? Perhaps you could improve as a manager of players, or your defensive knowledge is lacking. Your process goals can be to improve in these areas, perhaps through a coaching course or by dedicating more resources to filling knowledge gaps.

These process goals will in turn contribute to both your individual outcome goal and that of the team – a better coach leads to a team that's more prepared to achieve its goals.
To supplement your process goals, the team can look to improve with a series of their own. Are they prone to conceding too many goals or tries, or do they not score enough? Do the players lack discipline, with two many players getting sin-binned or sent-off?
You could get even more specific. Maybe you have a tendency to lose line-outa, or concede the majority of your goals from set-pieces. Identify these weak spots in your team, and tailor your coaching sessions to improve upon them.
For players, it's a similar process to coaches. Analyse what parts of your game need improving, and get to work.
So, are you a striker who wants to score more goals with your head? Are you a defender that needs to develop their weaker foot? Are you a full-back who struggles under the high ball? Or perhaps a goalkeeper who has a low penalty-save ratio?
Find where your game is at its weakest - starting to correct in these areas are the little processes that slide into place on the road to your outcome goal.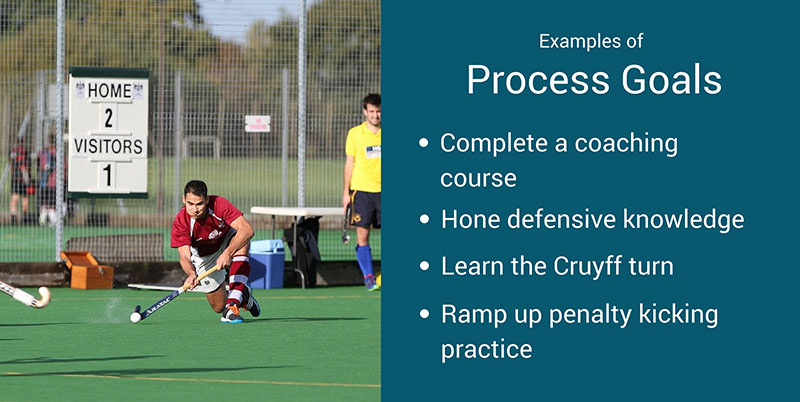 Check your performance
Chances are that your outcome goals span an entire season and the final stretch may not occur for a number of months. To help keep you motivated then, you need regular performance goals that give reassurance you're on track, or offer a reality check that more hard work is required.


Performance goals tend to be trackable, providing you with a clear yes or no response that measures how effectively your process goals are working. These are best reserved for in-game situations, as ultimately you want to measure performance in a competitive environment.


For your team, it might mean keeping a clean sheet in five of your opening 10 games; or you could look to beat a team that finished above you in the league the season before. Maybe you want to come flying out of the blocks at the start of the season, eventually mixing it with the top-six before the halfway point.


For players, you can make similar yardstick-type performance goals that confirm you're on the correct path. Can you execute a new skill in a game situation? Can you improve your discipline and not receive a yellow card in the early season? Have you scored a match-defining try in your club's biggest match of the season?


Performance goals keep the mind focused by offering short-term victories, maintaining motivation over the long-haul journey towards your outcome goal.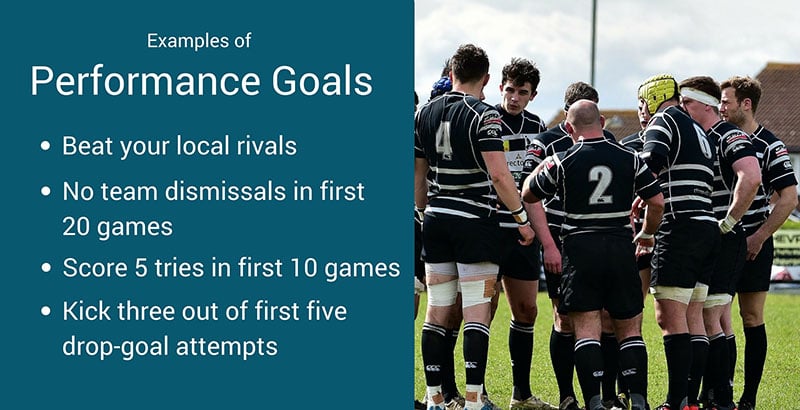 6 Tips for effective goal setting
1. Be realistic but tough
Don't make it easy on yourself by agreeing on easy goals that you or your team will waltz towards – that isn't a true sign of progression. Ensure goals are tough, but can be achieved with just the right amount of application.
2. Measurable targets are vital

Another way to be true to yourself and your team is to set clearly measurable goals (likely to be in the performance section). Setting hazy goals that are open to interpretation can lead to an inflated view of where you are on your path to the outcome goal. Set measurable goals to truly track progress.
3. Mix long term and short term goals

We've spoken about how setting goals in sport can help to boost motivation, and you can maximise that by mixing short-term and long-term goals. The outcome goal, placed as it is in the distance, can lead to demotivation and lapses in concentration. To combat that, set shorter term goals that you can work towards – each contributing to the final goal.


4. Be relevant

This is particularly pertinent for coaches. Setting goals that your players can relate to is vital to getting them onboard with your wider objectives. Add context to your goals by appealing to a player's emotional side. As players of competitive sport, their desire to win just needs to be inflamed when setting goals for them and the team.
5. Let players set their own goals

As a coach, handing responsibility over to your players to set their own goals can often boost how invested they are in improving through goal-setting. Sometimes, it's better to identify process and performance goals in conjunction with a player, rather than telling them areas they need to improve.


6. Make goals positive not negative


One final aspect to implement into your goal setting is ensuring you remain positive. Rather than 'reducing' the amount of times a player does something negative (say misses a kick at goal), frame a goal as 'increasing' the amount of times a player does something positive (successfully kicks at goal).


The majority of players will respond much more favourably to positivity, and allows them to focus on success rather than failure.

Be the best coach you can be - Free Ebook

Crammed full of coaching advice on everything from motivating your team to preparation, Pitchero's Sports Coach Bible '17 Ebook can help you improve your coaching skills and own it out on the training pitch this weekend.