If you're wondering 'how do you create a sports team website?' then our comprehensive guide will walk you through the steps.
We'll look at how a sports team decides what they need their website to do first.
Next, we'll compare software options for a new sports website such as a Wordpress site (content management system) or a website builder like Pitchero.
Lastly, how does your sports team switch over? When changing website providers, clubs should think about the ease of transfer, how simple the new system is to use afterwards and what level of support is available.

By the end, you'll know what your club can achieve with a new, professional-looking website - and how Pitchero might be the perfect solution.
Jump to these Sections: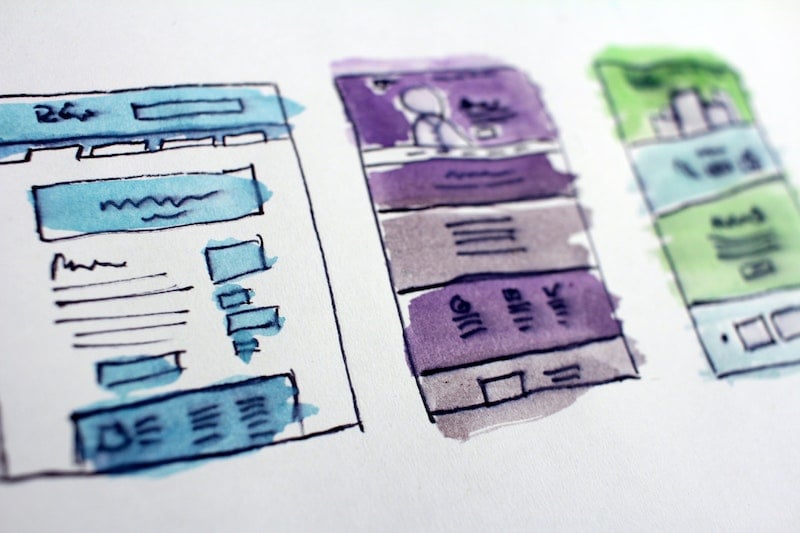 Start with a sports website review


If your sports club wants to create a new website then it should start by reviewing what's missing from your current one.
Have a brainstorm with your volunteers and club committee.
By thinking about exactly what you need for a future website, it will highlight where the gaps are and allow you to plan ahead.
What are your current frustrations?
What else would you like your website to do?
What features would save your club time and make you money?
It's fair to say that all sports clubs have a range of repetitive activities they do annually. What if these could be simplified online instead?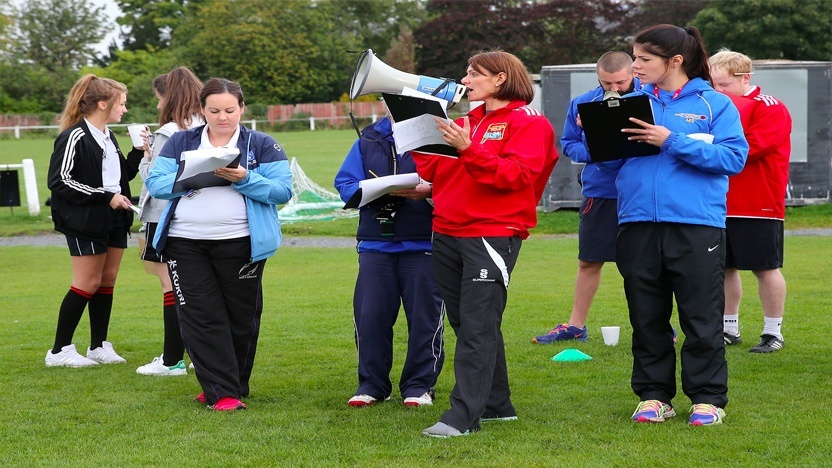 With your sports website review, think about how you do: Online registration for members, events calendar, game schedules, online store, contact forms…there's a long list!
There are two sides to getting the best sports team website.
It has to deliver everything your club and members need but just as important: how easy is the system for volunteers to use?
It's worth noting that this guide applies to all sports so if you thinking, 'how do you make a football team website?' then you're in the right place - but equally, the advice here can work for a cricket, hockey, rugby or netball club website.
Ok, let's dive into some key areas that all sports club websites should cover and the following features from Pitchero.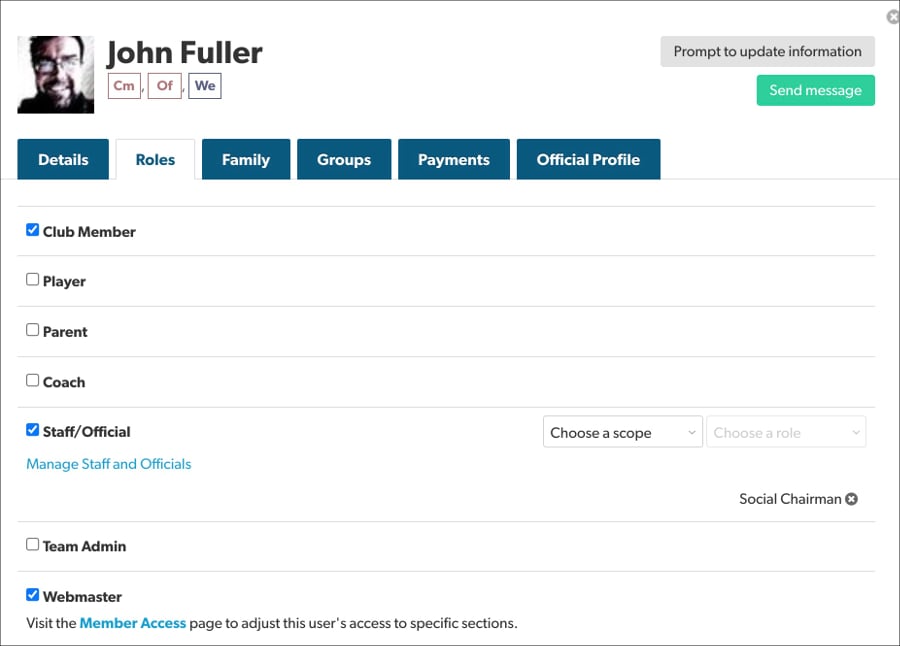 Members

How sports clubs manage their membership online is about as important as it gets. Explaining the benefits clearly online, making it easy to join and then managing a member's journey are all crucial to get right.

With Pitchero, anyone can sign up for free, set up their profile and 'join' a club website.

Pitchero is built on a system of roles, each with permissions and features.

They include: Club Member, Player, Parent, Coach, Staff / Official, Team Admin, Webmaster and Primary Webmaster.
Access can be granted or changed at any time by a club. The advantages of this are:
Spreading the workload for busy volunteers
There's not a single person in charge of your club website
Clubs can securely view personal data necessary to do their jobs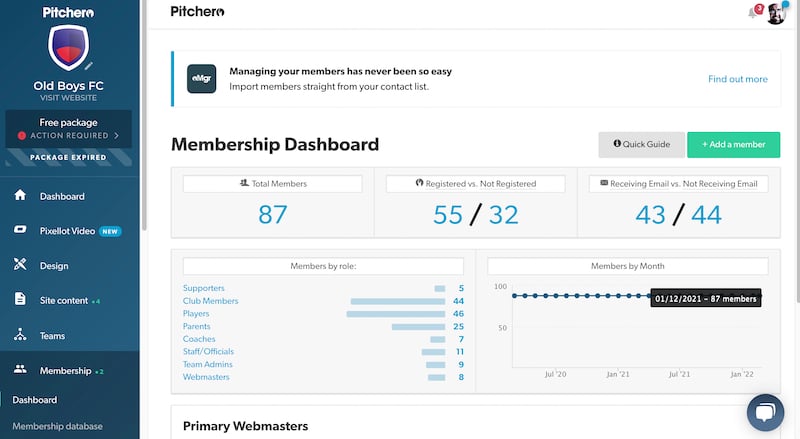 There is a Membership Dashboard as part of the Club Control Panel; a single interface where sports clubs can manage their website, online payments, communication and much more.
It's very easy to import existing members to Pitchero, filter and export data and organise contacts into groups and team members.

With Pitchero, you can:
Create custom registration forms
Register players, parents, officials and fans
Oversee club roles and access
All of these membership features allow every sports club to see the full picture instantly for every member.
The different pieces of the puzzle aren't scattered across a variety of computer programmes, apps or offline.
In one place, club officials can see who has joined when, together with what they've paid and relevant information like important health considerations.


Revenue
Every sports team website should be able to pay for itself many times over. This can be achieved by selling to members, supporters and corporates and offering fantastic benefits and value.
With Pitchero, you can:
Sell flexible membership packages
Collect match fees (and send instant reminders with a payment link)
Launch a fundraising campaign
Offer sponsorship and advertising packages
Take online bookings and hire out your facilities all year
Pitchero's research has shown that on average clubs generate 30% more money by taking payments online.
It means an end to handling cash and trips to the bank.
It's a win-win because your club can also offer website visitors a convenient payment plan via instalments to make it easier financially for members.
For something like membership or match fees, there's the chance to set up a one-off or recurring payment.
That's handy for your members but also keeps the club cashflow healthy at the same time and saves admin.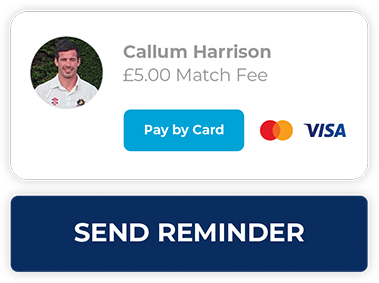 Admin

Doing all of the admin tasks that volunteers at sports clubs are faced with is no easy feat.
For many, it means evenings and weekends around work, family and other commitments. You do it for the love of grassroots sport but it doesn't mean there can't be some shortcuts.
Using one platform like Pitchero doesn't magically make admin all disappear, but some jobs can be done quicker and reduce processes that are a pain.
Post a news item in seconds, message the whole club database or specific groups, whatever the job, it has to be intuitive and built with speed and ease in mind.
With Pitchero, you can:
Use a hosted control panel to view and edit information about your club and members from one place
Import league fixtures, results and tables automatically
Send reminders with a link to pay instantly
View live financial figures and run reports
Send and filter messages by team or role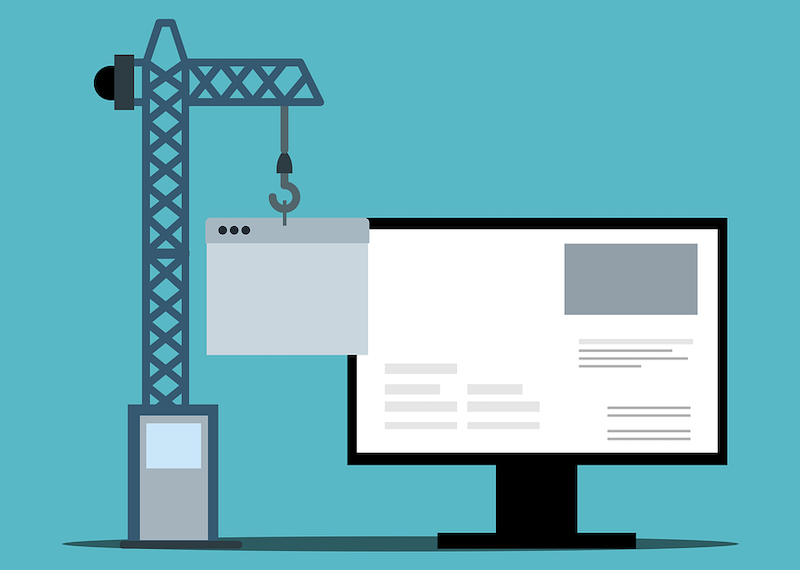 What is a sports website builder?

When you've decided what features your new sports team website will have, it's time to think about what software to use - and a website builder could be the perfect choice.
A website builder is a collection of online tools, offered by a company, to create a website - without needing to know manual coding.
It is designed to be easy to jump in and get started. Forget about being a website developer or having a background in website development.
Anyone can sign up with a website builder and start creating in minutes.
A sports website builder - like Pitchero - is a total package with all you need.
It will usually have:
Templates or themes to style your website
Hosting
Custom domain
SSL certificate
Online or phone support
The best website builders make it possible to build a new website that will be mobile-friendly (easy to use on a mobile device), have all the core features and a professional online presence.
You can personalise the look and feel of a sports club's website with logo, club colours, custom pages, fan shop and events calendar.
It's worth pointing out that they will have a free plan and paid-for packages (usually monthly or a discount for the annual subscription).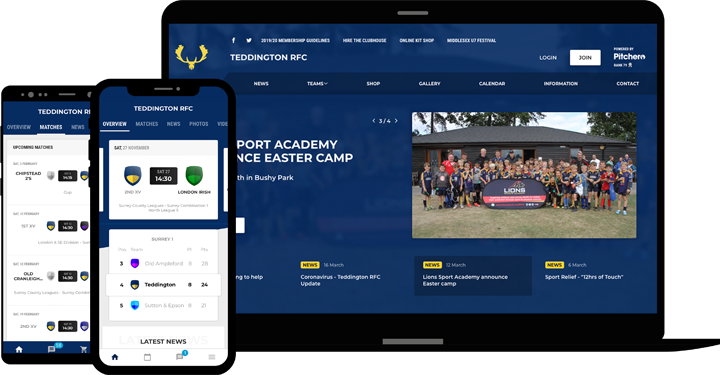 Which is the right website builder?


The best website builders to pick from match features with what your sports club wants to achieve.
Clubs will have different needs based on their size, volunteers and activities. So, the software needs to be able to support smaller clubs and those with multiple teams involved with youth sports and adults too.
Choosing a website builder is a case of exploring their website to understand:
Can you do all you want to?
Are the costs manageable?
Do you like using the platform?
How easy is it to switch?
With Pitchero, the point of difference with other website builders is our expertise in grassroots sport.
We look after 10,000 sports team websites. We understand the many challenges for volunteers and how to help them.
How much to make a club website visually distinctive will differ with each website builder but Pitchero chooses to lock down the code.
That's so your sports team gets peace of mind that you can't break anything or ever knock your club website offline - which can happen elsewhere.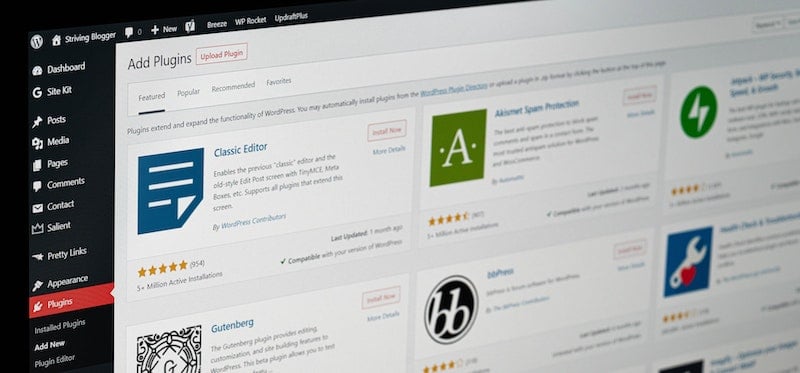 Alternatives for a new sports team website

Another route is to choose a content management system or CMS (Wordpress is the most popular) or design your own website using a web developer.
The advantage of a content management system is that it can be more flexible than a website builder.
It's possible to change the code to alter the layout, colours, anything you like. That can be achieved either by editing the code directly or using Wordpress plugins.
Paying your own web developer or web agency to custom-build a sports website is another alternative.
Your sports club will get every exact detail exactly how you want it but it's likely to have a hefty upfront cost with possible maintenance fees too.
The major problem with both of these is that the club volunteer needs to have much more of a hands-on approach to all the technical elements of running a website.
Moving to a website builder

Once you've decided what your new sports website will do and let's say you've researched website builders as the preferred choice.
What next? This is the fun part! Sign up for a free account and away you go!
With Pitchero, you can get started in minutes. There's a 30-day free trial to roadtest the features.

Moving a club website isn't something you want to keep doing. Better to do your research, ask all your questions so there are no surprises and then make the move.
During Pitchero's free trial period, it's a good idea to:
So, add some articles to your new club website, use Pitchero's support team for things you're stuck on and move some membership data across to test, filter and understand how things work.
Once real or 'dummy' membership is imported, you can select teams and do all kinds of things a typical sports club would.
Use as much of the capability as you are comfortable with, not to understand it all but more so you know what you can do in future.
Unlimited teams
Free domain name
Premium website template
Less advertising
Lower transaction fees
If you're a larger sports club then the Elite or Ultimate (paid-for) packages will offer a premium template, unlimited teams, plus lower transaction fees and fewer or no third-party ads.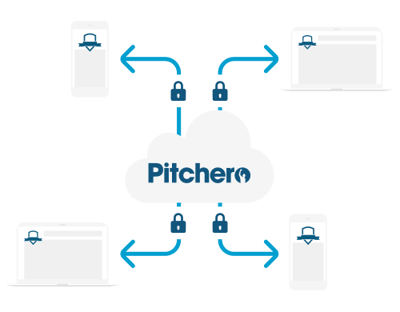 Security & GDPR
Every sports club website needs to have complete, cast-iron confidence in its infrastructure, given they handle personal data and if there are online transactions then there is credit card data to consider too.
Time and attention should be on your sport and not thinking about backing up the club website all the time or responding to hackers.
Safeguarding member data securely and carefully and complying with GDPR are serious responsibilities, regardless of the size of the club.

Using Pitchero makes this stress-free:
Pitchero is always online (no downtime)
Data security uses Amazon Web Services data centres
GDPR toolkit for gaining consent from users of your website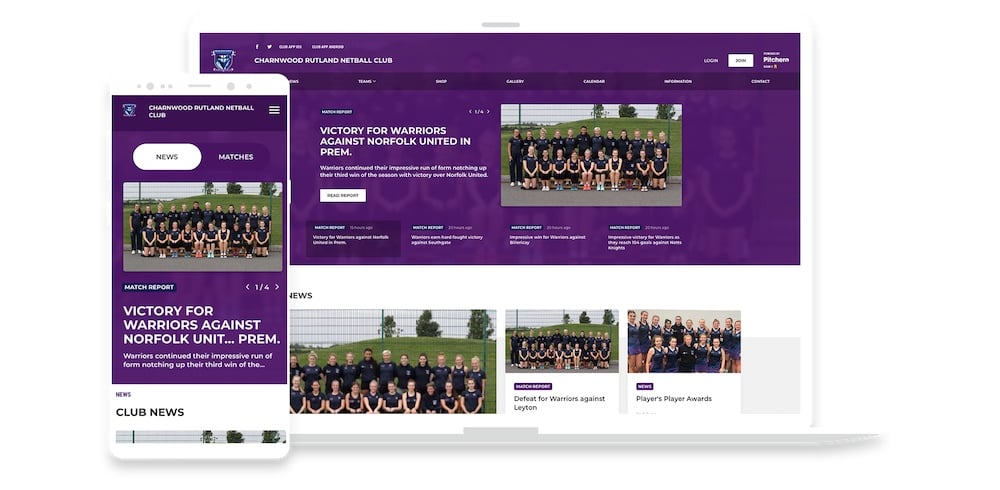 Pitchero offers:


+ Club website
+ Mobile apps
+ Unlimited hosting
+ Domains & emails
+ Team management
+ Membership database
+ Online payments
+ Venue management



What can your club use it for?


+ Membership
+ Availability + selection
+ Competitions + fixtures
+ Venue bookings online

+ Match reports
+ Photos + videos
+ Match statistics
+ Match fees
Features

+ Club logo & colours
+ Online Registration forms
+ Data import & export

+ Sell products
+ Collecting donations
+ Direct debit & credit cards
+ Tracking & reporting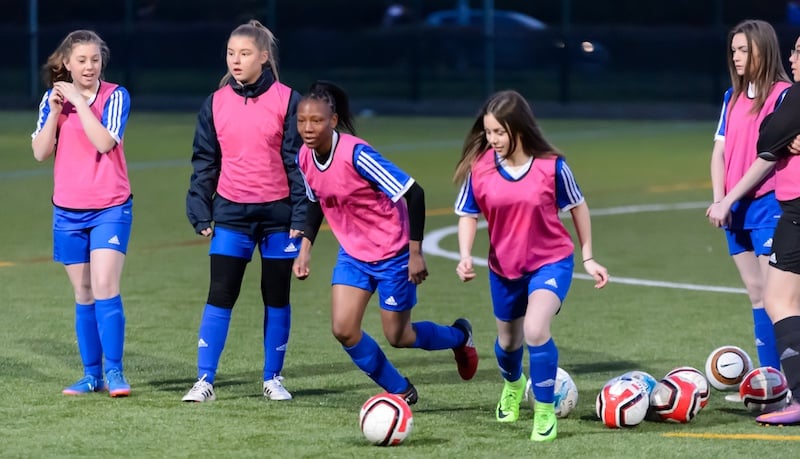 Experts in Grassroots Sport
Few website companies know grassroots sport inside out.
Pitchero has been building its award-winning platform to support sports clubs for over a decade.
10,000+ clubs choose Pitchero for their website, mobile apps and members
1.5m+ members (players, parents, clubs, leagues and supporters) use Pitchero
Mobile apps for sports teams


All clubs on Pitchero benefit from their own free iOS and Android mobile apps.
These apps complement your sports website and help club officials manage match fees and payments, team selection and player availability.
With a premium club website and apps, volunteers have everything in place to be successful online.
City of York Hockey Club:

"In all honesty, I don't think we would have been able to play hockey without it."

Brentwood Rugby Club:

"Brentwood RFC has used the payments feature to increase membership income by almost 100%!"

Leeds & Broomfield Cricket Club:

"Our old website did the job but it looked like it was made in 1990! This looks so much more modern. I'm not amazing at technology and I find it very easy. My advice to other clubs who haven't used Pitchero would be that it almost does the work for you!"
Canterbury Pilgrims Netball Club:

"Pitchero gives us a simple-to-use platform for all aspects of the club, but particularly for collecting subs and organising matches. Simple to pick teams and message different groups of players. It saves hours of paperwork and means you always have up-to-date information."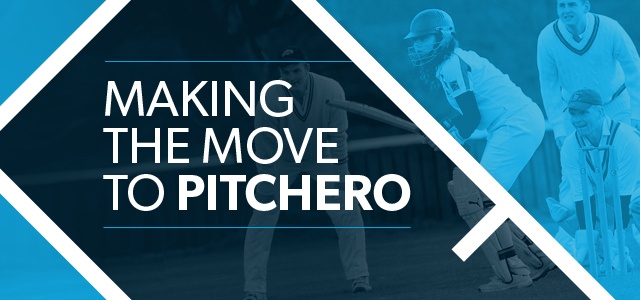 Ready to get started?

You can book a demo to ask anything on your mind and see functionality on a video call.
There is also the benefit of a 30-day free trial to use Pitchero and know if it's the right fit for your club.