Getting into coaching
Why should I become a football coach?
Coaching is a career enjoyed by millions around the country. It can be a great way of getting involved in sport and making a difference in your local community, plus it's a great way to keep mentally and physically fit!
There are any number of reasons why people get into coaching, and one of them is just a burning desire to get involved. Maybe you're a lover of football, who wants to put years of playing knowledge to good use.
Ultimately, most coaches just want to put something back into football and a local community that has served them so well. Plus, you'll be playing a vital role in shaping the future of many humans beings, on both a sporting and wider social level.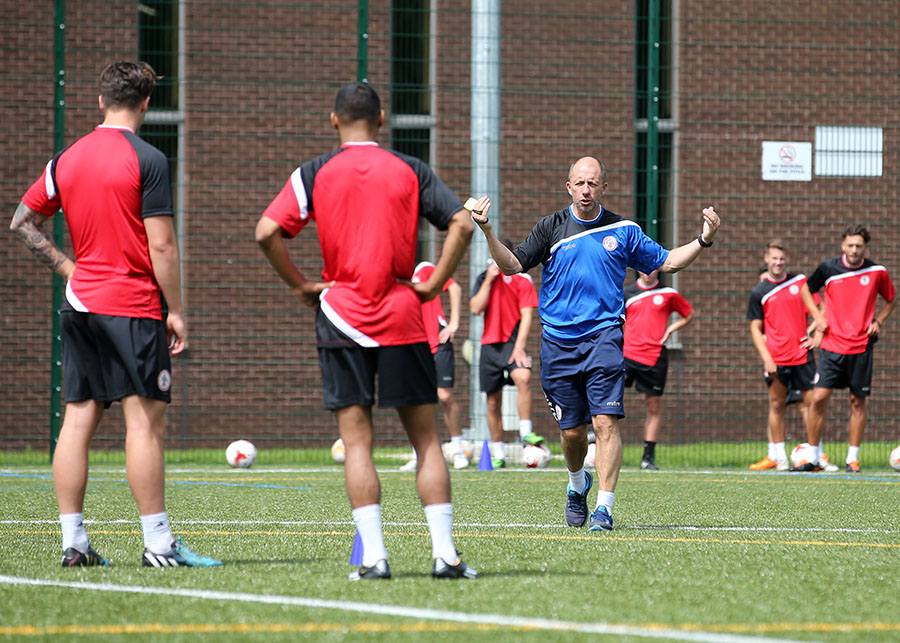 Who should I coach?
It can be a little daunting throwing yourself into an adult coaching session from the off, so building skills and knowledge by coaching kids is the place most people start.
Whether you're starting out with children or adults, you could break yourself in by becoming an assistant coach. Learning from those who have been there and done it will bring rich reward for you as a coach in the future, and becoming an assistant can build valuable confidence without overburdening you by becoming the primary coach.
If the end goal is to go into a specialised area of coaching, such as disability sports, then there's now more help than ever to make that a reality.
What are my responsibilities as a coach?
Clubs may want you to gain some knowledge on things like first aid and laws around keeping children safe. As the coach of a youth team, parents will be leaving their children in your care – so it's your responsibility to ensure they're safe during the session.
The well-being of performers should be placed at the very height of everything you do as a coach, so it's worth making sure you're aware of legal responsibilities around child protection, negligence, risk and duty of care before you take on any youth coaching roles.
Aside from these safety and well-being factors, your responsibility as coach is purely to do all you can to develop the performance of players in your team.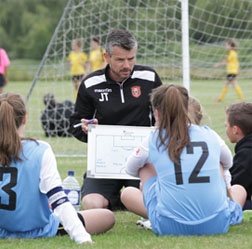 Football coaching qualifications & courses
To become a fully recognised football coach, you'll need the right qualifications. These are known as football coaching badges and are provided by your local/national football association.
To gain a coaching badge, you must enrol in one of the football coaching courses in your local area. There are different levels available, so it's important you choose the correct course for you.
For example, The Football Association (FA) has 5 levels a football coach can do. They will teach all aspects of the game and get progressively more difficult, take longer and cost more.
There are also plenty of great online resources available to coaches looking to fine-tune their skills and tactics. Whether it's taking inspiration from the pro's by examining some of the most popular football tactics or online guides to help you improve your players technique - the internet can be a great tool for an aspiring football coach.
Football coaching jobs
Once you've completed your football coaching course, it's time to put the skills you've learnt into practice. A great way to start is to approach your local football club and ask if they have any open coaching positions.
Coaching in grassroots football is generally unpaid, so you'd need to be willing to sacrifice some of your time on a weekend and on certain weekday evenings.
If you're looking for a career in football coaching there are plenty of opportunities out there too - our guide on how to get a job in football coaching will help you on your journey.
What makes a good coach
Developing relationships
Coaching is all about building relationships. As a coach, making your players the best they can be is in your hands. Part of your job is identifying how to do that with each player's different needs.
You need to make yourself available to your players at all times. Place their interests at the heart of what you do, show that you care about their success on the pitch – and they'll respond by giving their all in return.
There are of course differences needed in your approach, depending whether you're coaching adults or juniors. We've examined this difference previously and came up with 6 tips for coaching kids in sport, which should give junior football coaches some great advice.
Children are not scaled-down adults. It may seem obvious, but it means that you'll have to realign your expectations on why the participants in your youth session turn up and what's best for their development - be that developing their ability or developing their confidence and mental strength.
Coaching styles
In the coaching industry, there are three clearly defined and generally accepted coaching styles. These are differentiated by the overall direction a coach leads his team in – as well as the objectives they set out to achieve for their players.
Those styles are:
Authoritarian

An authoritarian coach tends to treat their team in an authoritative, controlled manner. In a similar way to how a strict teacher might with their pupils in school, what an authoritarian coach says is final, offering no room for input from players on how a training session should go, or how the team should play.

Democratic

A democratic coach offers a method that's more agreeable in 21st Century sport. In this scenario, the coach acts as more of a facilitator to the decision making process. Opening up a two-way communication channel, players and recipients of this method of coaching are encouraged to offer their input into the process.

Casual


Taking the concept of the democratic coach and taking it to the next level, the casual coach offers even greater freedom and control to players. Predominantly, this type of coach is concerned with creating an environment where the players can enjoy the freedom to learn new skills and ideas off their own back.
There's no right or wrong style to coach. You should have the flexibility to adapt your own style depending on the needs of those you are coaching. Ponder the goals you want to set for the individuals in your team and the team as a whole.
You are the leader of this group of athletes, and it's your job to get the best out of them as individuals and as a team. Think carefully about all these questions above before making a decision on the best way to coach your team. For more information see our definitive guide to coaching styles and see which style is best suited to you and your players.
Coaching equipment
You've probably heard the saying 'A carpenter is only as good as his tools' and this can also apply to a football coach.
In order to get the best out of your coaching ability and improve your players, it's important that the equipment you use is safe, up-to-scratch and appropriate for the drills you are trying to run.
The best coaches will be well prepared and come to training armed with enough of the correct equipment, to run an effective and enjoyable session for their team.
This goes beyond just bringing enough balls and bibs, but what can you do to give training a little lift? Many coaches suggest incorporating music, with it injecting a fresh, fun vibe into training.
The last thing your players want to be doing on a cold, wet evening is the same old drills using the same old equipment. Mixing it up every once in a while is a great way to keep your players happy and to challenge yourself as a coach. Check out these 5 tips to make your sessions more engaging.

To Summarise
After reading this you should now have more of an idea as to the responsibilities of a football coach, how to get into football coaching and the things you can do to make yourself the best coach you can be.
It's now up to you to put this all together; so get out there, grab your whistle and get coaching!
And don't forget, if you're a coach and you feel like you're spending too much time on admin and not enough time coaching, then move your club or team to Pitchero for free today.