For the past week, we've been asking the Non-League community to doff their caps to this season's best Non-League performers.
From a shortlist of 32 players (take a look at them here) selected from our writers at Pitchero Non-League, we've given the fans the power to select an XI of outstanding players from the 2016/17 season.
Thanks to everyone who voted, here's your starting XI, plus the reasons why they made the cut.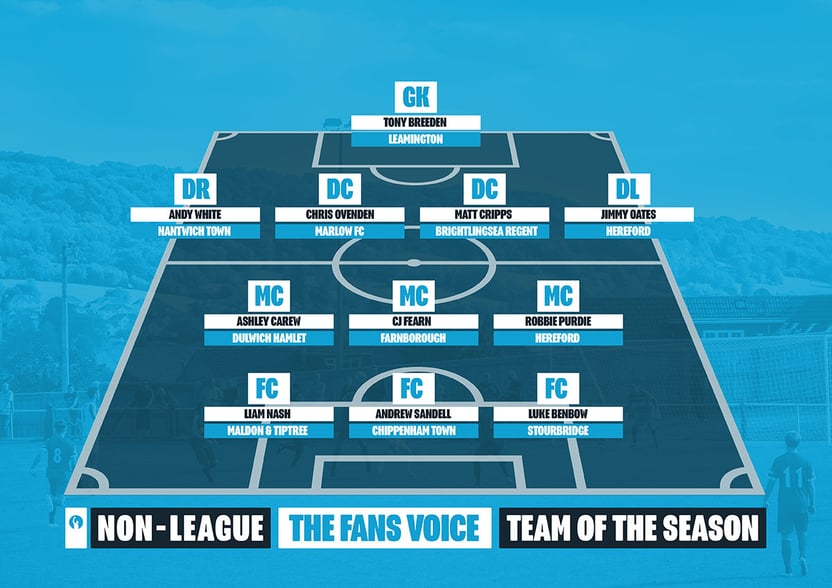 Goalkeeper
Tony Breeden - 48% (of goalkeeping vote)
Club - Leamington
Most stats are blown out the water when you glance at Leamington's defence. Mean doesn't quite summarise it well enough; but the club conceded only 32 goals in 46 league games this season - keeping 27 clean sheets in all competitions.
Our Goalkeeper Tony Breeden deserves a few votes in this poll after his tremendous season for Leamington! #VoteForTony https://t.co/HKcmkJtyIU

— Leamington FC (@LeamingtonFC) May 23, 2017
Breeden has already received recognition with Leamington's Manager's player of the year award, and he could add to it here.
Defenders
Jimmy Oates - 38%
Club - Hereford
Hereford's barnstorming season saw them secure the Southern League Division 1 South & West title by a mammoth 18 points. Only 32 goals were conceded during their league campaign, and Jimmy Oates formed the mainstay of an impressive Hereford backline.

So distinguished were his performances that manager Peter Beadle recently confirmed that Oates was the only player in the club's squad that was officially had a contract.
Chris Ovenden - 27%
Club - Marlow
Ovenden has excelled in a team built on strong defence performances down at Oak Tree Road.
⚽️Most Appearances ⚽️Top Goalscorer ⚽️Supporters player of the year ⚽️ Strong season 🔵 #SuperMarlow #Promotionnextseason https://t.co/ymd9bn5RFO

— Chris Ovenden (@Chris_Ovs) May 24, 2017
If securing the best defensive record in the division wasn't enough, Ovenden strengthens his case when you add on the 12 goals he has scored in all competitions this season.

Matt Cripps - 19%
Club - Brightlingsea Regent
Rounding off our eight outstanding defenders is Brightlingsea's Cripps, the club captain who led his side to the Isthmian North title.
Skillful on the ball and unflappable under pressure, Cripps weighs in nicely at the other end too. Five goals and six man of the match awards make Cripps a serious contender.
Andy White - 5%
Club - Nantwich Town
White has been a consistent performer for Nantwich for years and deserves further recognition this season after racking up 62 appearances. Voted the Supporters and Players player of the year last year, White added another Supporters player of the year in Nantwich's end of season awards recently.

A fans favourite, White also got the nod in the NPL Premier team of the season; but will he overcome his Non-League rivals to make it into the biggie?
Midfielders
CJ Fearn - 48%
Club - Farnborough
Described as a" combative" midfielder on Farnborough's official website, CJ Fearn continues to progress and excel in a successful side. Appointed captain ahead of the 2015/16 season, Fearn's academy beginnings provide the perfect example of why clubs should place their faith in homegrown talent.
@CjFearnn doing bits getting into the Non-league Team Of The Season 🙌🔥deserved!! pic.twitter.com/ZCnpR4TxTV

— Ryan Bray (@ryanleebray) May 27, 2017
Fearn laid a solid and consistent foundation at the heart of midfield, allowing Farnborough to score 96 league goals and secure promotion via the play-offs.
Rob Purdie - 40%
Club - Hereford
Now in his third stint at Hereford, Rob Purdie has established himself as a fans favourite after racking up over 400 appearances for the club.

Purdie has led from the front this season, helping his club secure promotion back into the Premier Division of the Southern League.
Ashley Carew - 5%
Club: Dulwich Hamlet
Talented and creative, Ashley Carew played a significant hand in Dulwich's goal-laden season. Of the 98 goals scored during the league season (the most in the division), Carew chipped in with 14 goals and 15 assists.

A standout performance came in November, when Carew an assist, goal and the Man of the Match award in a 4-1 win over Worthing.
Strikers
Andrew Sandell - 29%
Club - Chippenham Town
Rivalling Wright from the Southern League is Chippenham's Andrew Sandell. The division top scorer with 27 league goals, Chippenham racked up a division best of 94 during the season.
Start your weekend off right - go and vote for Andy Sandell for a place in Non-League fans team of the season! #BlueArmy https://t.co/rk4FarCvrx

— Chippenham Town FC (@ChipTownFC) May 27, 2017
The difference here is that Sandell's goals led to glory. Chippenham eased to the Southern League Premier title, with nearest rvials Leamington 11 points behind.
Liam Nash - 19%
Club - Maldon & Tiptree
Nash has been by far and away Maldon & Tiptree's top scorer this season with a massive 36 goals in his 47 games, 15 ahead of strike partner Sam Newson.

His goal scoring record helped Maldon to finish second in the Ryman North Division, with Nash's goals accounting for 38% of their season total.
Luke Benbow - 17%
Club - Stourbridge
The London born striker has netted 39 goals in all competitions for Stourbridge this season, helping them finish third in the league.

After a stellar first season, Benbow then scored a pivotal goal in Stourbridge's 3-2 Play Off Semi Final victory over Workington. Unfortunately, Benbow was unable to hit the back of the net in the final as his team lost 1-0, there's no doubt he'll be wanting to go one better next season.
Your thoughts
Have the fan made an alarming error in their final XI? Want to give someone a shout out from your club?
Let us know in the comments below, and follow Pitchero Non-League on Twitter for the best in Non-League.