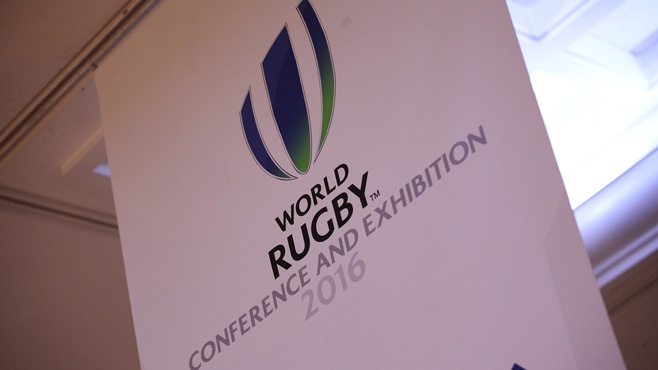 I headed to London this week for the World Rugby Conference 2016 – primed and ready for a day of debate and discussion on the direction of the sport heading into a new year.
Rugby's biggest names turned out to give their opinion on the hottest debates in sport heading into 2017. Here's a round-up of what was said, and what it means to your sport's future.
The grassroots game
As you'd expect, a central focus for us was how Rugby plans to grow at grassroots level. For a thirty minute stint on the subject, our CEO Mark Fletcher was joined by Wayne Morris, Community and CSR Director at Premiership rugby, Chief Executive at Rhino Rugby Reg Clark and United World Games' Tournament Director Renee Carmine-Jones.
A central debate was on maintaining a level of growth for those participating in the game. Rugby, as a sport, has many forms (touch, 7s and league to name just three branches). One consensus was around moving away from the idea that 15-a-side was the pinnacle of the sport, and embracing these alternative forms of the game, was key to attracting a new audience to play the game. Clark, for example, said.
The grass roots challenge session starting now in the #WorldRugbyConfEx exhibition pic.twitter.com/AKGXEC64sp

— World Rugby ConfEx (@WorldRugbyConf) November 14, 2016
"We're a sport loosely, but we are a values system...even if it's touch, 7s, dare I say it League or Union, we're all part of the same sport."
Elsewhere, player welfare and safety (something we also touch on later) was covered when it comes to the grassroots game. With no pitch-side doctors and less education on the dangers of the sport, calls for rugby to tackle issues like head injury and concussion are getting louder.
In response, our CEO Mark Fletcher said that fundamentally, the way the game is played needs to change in order to reduce contact:
"We are becoming more and more obsessed with collision...you go to training on Thursday night up and down the UK and I guarantee most of that training will be smashing bags and clearing out....there won't be a huge amount about side-stepping or moving the ball quickly or avoiding collision."
"The whole sport needs to look at how we avoid collision more."
We interviewed Rhino Rugby's Reg in the aftermath of his talk on growing the game at grassroots level. He pinpoints a potential resurgence in the social side of the game as something he believes will help get more adults playing the 15-a-side game.
Player safety
Player welfare is arguably the game's biggest talking point at present. We caught up with one of the game's pioneering firms in bringing about positive change to safety in rugby – Contego Sports. Creators of the N-PRO, they've developed the world's first headguard that's scientifically proven to provide protection against impacts to the head.
Their CEO Mark Ganly gave us a quick explanation of how exactly the N-PRO does that. For more coverage, head to our previous blog post on the subject here.
Growing women's rugby
Expanding the reach of the women's game is a huge part of plans from governing bodies in 2017 and beyond. The RFU have recently announced their intentions to double the amount of women playing rugby by 2021, and coming into a World Cup year, the time is now to refocus on growth.
Amongst the panel to discuss the topic were ex-Ireland captain Fiona Coghian and World Rugby's General Manager of Women's Rugby Katie Sadleir.
Excellent turnout for a huge discussion currently in the game here at @WorldRugbyConf - growing women's rugby #WorldRugbyConfEx pic.twitter.com/ta59Lj5cgp

— Pitchero (@Pitchero) November 14, 2016

The final member of the panel, CEO of Australia Rugby Union Bill Pulver, said a more inclusive attitude to women in the sport had to start at the very top.

"What we've got to do as a code is aim to normalise the role of women in the game. That starts at the board room and all the way to the playing field."

From boardroom level to club level, Coghian pointed out that community clubs need to be as supportive as possible when it comes to building their women's team.

"It's not about ticking a box, saying we have a women's team. It's about clubs taking ownership of it and supporting it through - which isn't happening at the moment."

The Olympics gave women's rugby a platform it had never experienced before. Those at the very top of the game are hopeful that having seen it played on the world stage, more women than ever will be encouraged to pick up a rugby ball.
Seven's Olympic legacy
Sticking with sevens, the success of the Olympics in Rio has offered the game at a wider level an opportunity it cannot afford to miss out on. Rugby, albeit in it's shortest form, suddenly has global appeal – and the game needs to capitalise by growing the game in new markets.
Fiji's Gold Medal winning captain at Rio 2016, Osea Kolinisau, was on the stage to tell his Olympic story.
Osea Kolinisau – Olympic Gold Medallist and Sevens Captain – talks about his Rio 2016 experience #WorldRugbyConfEx pic.twitter.com/TzYDwLybD9

— World Rugby ConfEx (@WorldRugbyConf) November 14, 2016

Harnessing it's new-found interest, some believe sevens should be given a more central role to grow the accessibility of the sport. For us, sevens is a sport that's easier to throw yourself into, more enjoyable for newcomers, and offers opportunities to play tournament rugby on evenings and weekends with a number of games over a single day.

Amongst it's supports are Tropical 7s, a company offering youth players a unique rugby experience in Florida next Easter. We spoke to their Director John Siner, who agreed that rugby has to build on it's increased profile thanks to Olympic success.